DICON Training
Duke Infection Control Outreach Network (DICON) is pleased to offer member institutions acess to an ever-growing library of online training courses developed at Duke University Hospital for healthcare workers. To access courses on this website, you must first obtain an access code from the training coordinator at your institution or from the DICON training coordinator. With your access code, you will be allowed to register for a new user account. With your personal account, you can login to take the courses that are available to your institution. Please contact your hospital infection preventionist or the DICON training coordinator (DICON@duke.edu) to discuss how to obtain access to all the courses offered below.
| | |
| --- | --- |
| | |
| A scene from the "Make Hand Hygiene a Habit" | Anatomy of the right external jugular vein |
Courses Offered

1. Prevention of Surgical Site Infection in the Operating Room (for all operating room personnel)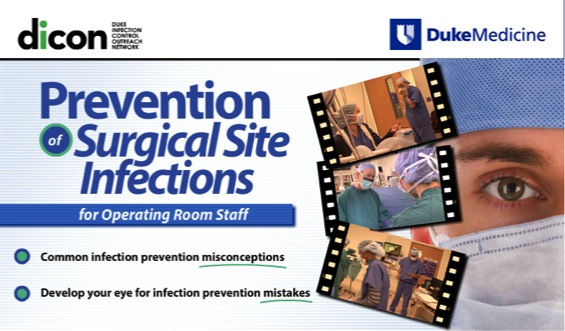 Surgical site infections (SSI) are serious complications of surgical procedures that can lead to devastating patient morbidity, high healthcare costs, and death. Between 2 and 5% of all patients undergoing surgery in the United States will go on to develop an SSI.
Many SSI, but not all, are preventable with sensible practices that help mitigate the numerous factors that could contribute to an individual patient's risk. Infection prevention practices should become routine part of an operating room staff's workflow; however, small breaches in practice or contamination events may become overlooked in this busy setting.
Operating room staff members play an essential role in prevention of surgical site infection. This interactive training course will reinforce and teach basic principles and practices of SSI prevention in the operating room. Through creative interface and user input, it also develops their "eye" for breaches in infection prevention practice, while emphasizing the team approach to infection prevention. Additionally, this course will help encourage compliance with basic, guideline-driven infection prevention practices required by US regulatory agencies, such as The Joint Commission.
View video introduction, 2:20
2. Stopping the Spread 
Duke Infection Control Outreach Network (DICON) produced six videos in high-definition (HD) format using professional actors/actresses. These videos, which range in length from 3-5 minutes, are focused on preventing infections in the hospital. These videos are available for distribution to hospitals, surgery centers and other healthcare facilities that provide patient care services. We believe these videos are excellent educational materials for orientation of new employees and for use in the credentialing process of existing healthcare workers. The video topics are:

Module 1—Make Hand Hygiene a Habit
Module 2—Who Do Gloves Really Protect?
Module 3—Confronting Non-Compliance
Module 4—Poor Excuses for Poor Hand Hygiene
Module 5—What is Contact Isolation?
Module 6—Infection Control: A Mother's Perspective

To learn more about these exciting videos and how your healthcare facility can benefit from the use of these videos, we are providing two video trailers for you to review. One video demo/trailer is a short version that can be viewed in less than two minutes. The second demo/trailer is a longer version that is approximately ten minutes in length and contains more detailed information about the contents of the videos.

Short demo/trailer 2:18 Long demo/trailer 9:06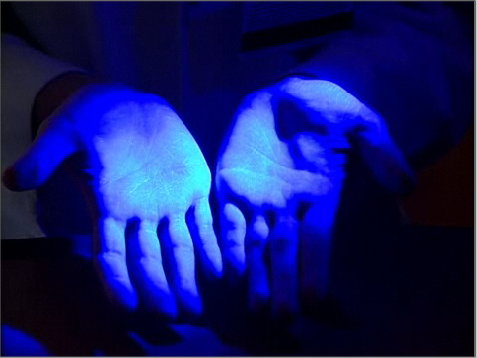 3. Safe Practices for Central Venous Catheter (CVC) Insertion: Refresher Course
Modern medicine has become progressively more complex. Examples of this complexity include the technical aspects of insertion, care and maintenance, and removal of central venous catheters. Use of short-term and long term vascular catheters is associated with important and serious risks of mechanical and infective complications. Catheter-related bloodstream infections (CR-BSIs) can cause substantial morbidity and mortality and many such infections are preventable if meticulous care is used during insertion and maintenance of these CVCs. This course is primarily intended as a refresher course for healthcare providers who insert central venous catheters (CVCs) and who have already completed the DICON Insertion of Central Venous Catheter course.
4. Care and Maintenance of Central Venous Catheters—(For Nurses and Allied Health Staff)

Modern medicine has become progressively more complex. Examples of this complexity include the technical aspects of insertion, care and maintenance, and removal of central venous catheters. Prevention of vascular catheter-associated adverse events has become a cornerstone of patient safety programs at most American hospitals. Nurses and other healthcare workers have an important role in reducing the risk of adverse events due to CVCs.

This course is designed to teach healthcare workers how to properly assess, access, maintain, and remove central venous catheters (CVCs). This course also includes a section containing important information for nurses and others who are assistants during the insertion of these lines. Nurses and other allied staff involved in the care of CVCs are encouraged to complete this course.


5. Insertion of Central Venous Catheters—(For Physicians)

Central Venous Catheters (CVCs) are an integral part of healthcare. Yet, insertion of CVCs places patients at increased risk for complications and for catheter-related blood stream infection.

The goal of this online course is to decrease the risk of adverse patient events by training health care providers regarding appropriate CVC insertion techniques, appropriate care and monitoring of the site and removal of a CVC when clinically indicated. The CVC on-line training course includes new educational materials and videos that focus on ultrasound guidance for CVC placement.

6. Safe Injection Practices: Core Competencies and Responsibilities for all Healthcare Workers

Injections are the most basic and common procedure in healthcare. Hundreds of millions of injections are performed each year. However, unsafe injection practices have led to transmission of bloodborne pathogens, such as Hepatitis C, Hepatitis B and HIV, to previously healthy people in several high-profile and widely-publicized outbreaks. Compromises to patient safety and placing patients at risk of infections with bloodborne pathogens are not acceptable. The responsibility rests on the healthcare provider to perform injections in the safest possible manner.
The goal of this online course is to effectively train healthcare providers regarding appropriate and safe techniques for injection procedures in order to decrease the risk of adverse patient events and to improve patient care.