Surveillance of healthcare-associated infections (HAIs) is a cornerstone component of all infection prevention programs.  Accurate ongoing surveillance of HAIs is necessary to detect problems and monitor the effectiveness of prevention efforts.  Methods and practices for surveillance have evolved as technology used for surveillance has changed and as our understanding of HAIs has improved.  An important new surveillance method, remote, electronic surveillance for HAIs, is now known to be accurate, practical, feasible, and less time consuming for local staff.  Remote electronic surveillance can lead to substantial cost savings when it is coupled with ongoing practical and effective infection prevention policies and data feedback to local practitioners and hospital leadership.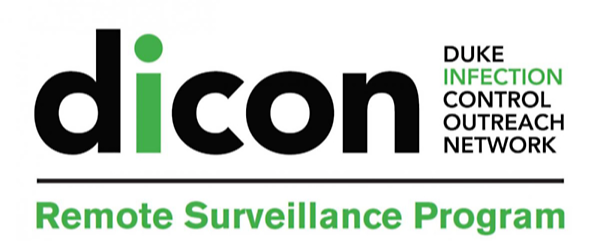 The Duke Infection Control Outreach Network (DICON) has engaged more than 70 hospitals and surgery centers over the past 22 years.  Our staff consists of experienced consultants who are all board-certified in infection prevention and control with experience in surveillance of HAIs, management of infection prevention programs, and implementation of prevention strategies aimed at reducing HAIs.  DICON has now transformed this expertise and experience into the DICON Remote Surveillance Program.
The DICON Remote Surveillance Program includes:
Comprehensive surveillance activities for HAIs and epidemiologically significant micro-organisms using protocols recommended by the National Healthcare Safety Network (NHSN).
Remote surveillance services to review microbiological cultures to identify HAIs and provide appropriate recommendations for prevention measures.  
Assistance to the local infection prevention departments in collecting data that meet mandatory reporting requirements as set forth by Federal (e.g., CMS) and State agencies.
HAI data validation using appropriate application of NHSN definitions, correct numerators and denominators to calculate rates, while simultaneously minimizing data entry errors.
Our staff also provide ongoing education to local infection prevention staff on how to interpret complex surveillance definitions and then time-trend and disseminate accurate HAI surveillance data.
Electronic submission of data on identified HAIs and critically important accurate denominator data to NHSN in accordance with Federal (e.g., CMS) and State agency mandates.
Familiarity with a wide variety of electronic surveillance programs (e.g., EPIC, Sentri7, Theradoc, etc.).
DICON staff members have long-standing experience and expertise in performing electronic HAI surveillance. Our staff and IT support personnel can explain and assist in implementing the necessary processes for accessing local electronic medical records in compliance with standard HIPPA regulations and security protocols.
DICON currently performs remote surveillance for 28 hospitals:
| | |
| --- | --- |
| Augusta Health |   |
| Central Carolina Hospital - A Duke LifePoint Hospital | Spartanburg Medical Center |
| Cleveland Clinic Indian River Hospital | Spartanburg Medical Center - Mary Black Campus |
| Columbus Regional Healthcare System | UNC Lenoir Health Care |
| Duke University Hospital | UNC Rockingham Healthcare |
| Duke Regional Hospital | Wayne UNC Healthcare |
| Duke Raleigh Hospital | WellStar Cobb Hospital |
| Frye Regional Medical Center - A Duke LifePoint Hospital | WellStar Kennestone |
| Harnett Health | WellStar North Fulton |
| Johnston UNC Healthcare | WellStar Paulding  |
| NASH UNC Healthcare | WellStar Sylvan Grove |
| Person Memorial Hospital - a Duke LifePoint Hospital | WellStar West Georgia |
| Princeton Community Hospital | WellStar Windy Hill  |
| Scotland Health  | Wilson Medical Center - A Duke LifePoint Hospital |
Tiered Proposal:
The DICON Remote Surveillance Program can be tailored to the needs of the local infection prevention department needs.   Options can include different levels of effort.   Examples are:
Tier I A- Surveillance of mandatory HAIs as outlined by CMS or State mandates (e.g., CAUTI, CLABSI, VAE, MRSA bacteremia Lab ID event, C. difficile Lab ID event, COLO SSI, HYST SSI).
Tier I B- Includes Tier I A plus submission of data to NHSN.
Tier II A- Surveillance of all HAIs (e.g., as defined by the facility, all SSIs, primary BSI, etc.).
Tier II B- Includes Tier II B plus submission of data to NHSN.
Tier III- Assistance with tailored prevention efforts based on surveillance findings.
Please use the Request DICON Remote Surveillance Program information form to learn more about the program.